Strange Kpop PT5: Let's (only) Walk the Flower Road
As you get deeper into the wondrous and strange world of Kpop you'll encounter a few expressions that sound intriguing but whose cultural meaning and nuance escapes you. There are few that capture the cultural uniqueness of South Korea and Kpop. One of these is the expression: "Let's walk the Flower Road" or, alternatively, "Let's only walk the flower road". A saying with multiple meanings and used in several different contexts that has fascinated me since I heard it the first time. Let me take some of your time to tell you about what I've come to understand about it
wishing someone well
The simplest meaning of a person saying: "Let's (only) walk the flower road", to another person is an aspirational one, but already it can carry two slightly different meanings: one is simply the act of wishing someone well. You wish for someone to only be walking the flower road from now on. The second but similar meaning is one that affirms that both of you will together walk the flower road from now on. So any past hardships are now over and you should focus on the good to come.
Letting go & not being able to be together
The second way this expression is used is when you let someone you are in a relationship with go. They may have changed feelings or circumstances prevent you from being together. In this case, in South Korea, a common way to think about this is that you let the person you care for go with well wishes. In doing so you invite them to come back if they have a change of heart. You figuratively spread flowers on their path that is now separate from your own as a way to show there are no hard feelings and that your feelings and affections still remain.
Korea and serving in the military
In the case of circumstances preventing you from being together, a common example is the mandatory military service for young men in South Korea, meaning a lot of couples will have to temporarily separate during the military service but a common sentiment is to ask that the person remaining will wait for the person temporarily leaving. Wait on the flower road. This meaning also occurs in pop culture.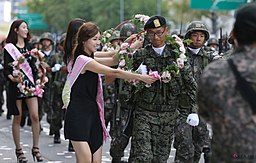 Big Bang and Flower Road
Group Big Bangs song "Flower Road" is a perfect example of the second meaning, executed with great songwriting and lyrics. The song was released at the same time as most of the Big Bang members began their military service. The song explaining to fans that the group understands if there is a need to part ways but that the members of Big Bang hopes for the fans to come back when the group gets back from the hiatus caused by their military service. In this case both hardships of being apart and separation, temporary or permanent implied in the lyrics.
Also watch the youngest Big Bang member Seungris', larger than life performance of Flower Road, all the more bittersweet and eerily prescient due to his quitting the music business because of the Burning Sun scandal and controversy during 2019. 
(Actually for some reason the video is limited to Youtube by the creator, so enjoy the kind of official but temporary video from Big Bang instead):
Other Occurrences in Kpop: Idol Drama Operations Team
This meta docudrama stars several members of different Kpop girlgroups. It details the story of fictional girl group "Girls Next Door" and the bittersweet life of a dutifully struggling girl group with all of it's hopes and heartbreaks. The composition of the "Girls Next Door" ranges from members from wildly successful Red Velvet (Seulgi participates) and Mamamoo (Moonbyul) to the moderately successful mid range of Oh My Girl (YooA) and Lovelyz (Sujeong) to members being out of groups like Somi and So-Hee or in groups that haven't caught any breaks yet like D.ana from Sonamoo. The participants and their melancholy stories make for a very different docudrama. Idol Drama Operations Team is actually a docudrama that details the creation of the web drama "Let's only Walk the Flower Road". Read a review and more about "Idol Drama Operations Team" and "Let's only Walk the Flower Road" here.
Kim Sejeong (Gugudan) Acceptance speech in Produce 101 and song Flower Way
In the massively popular Kpop survival show Produce 101, 101 trainees from different entertainment companies and agencies went head to head to win a place in an 11 member idol group. Kim Sejeong, participant and winner of a place in the group (and later part of girl group Gugudan as well as debuting as a solo artist) was also well remembered for her acceptance speech where she used "lets walk the flower road" to express her hopes for the future and gratitude. She also released the Zico composition "Flower Way" using her own lyrics which outlines her gratitude and well wishes to her grandmother who had raised and supported her.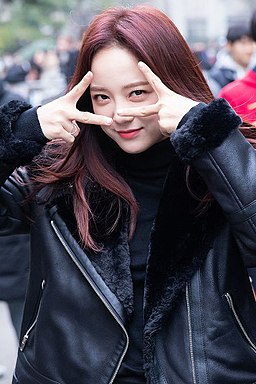 The poem azalea by kim sowol
One of Koreas most loved poets Kim Sowol (1902-1934) captured the sentiment in his writing of the poem "Azalea".
Kim Sowol was an interesting character who wrote the collection of poems that Azalea is a part of during his teens, according to some rumours inspired by his arranged marriage and an extramarital affair. In any case the poet had  a short life marked by drinking and ending in suicide. The poem Azalea describes the second meaning, that of letting someone you love go and there are as many interpretations of the poem as there are translations. Big Bang can be said to lovingly almost paraphrasing the poem in their song Flower Road – the inspiration is obvious:
When you feel disgusted looking at me
And if you feel like leaving me
I will let you go without whining a word
I will go to Yongbyon's Yaksan (Mountain)
I will bring an armful of azaleas
I will lay the azalea flowers on the path you'd take
Softly, lightly,
take one step after another on the fresh flowers
as you're going away
You may go away if you feel disgusted looking at me
I will not let a single tear drop fall
I'd rather die if you leave me, though
Pre-chorus and chorus of "Flower Road" (by Big Bang)
 If you are going to leave, I shall let you go
I shall scatter flowers on the path you will take
If you miss me, come back to me
Then you can love me again
Go on this flower road and take a rest
Then wait for me at that place
I'll pick a flower and kiss you
Our faces growing red
I'll make a flower road and prepare
For you to come to me
 I'll make a flower road and prepare it for you
So wait for me at that place
The well known poem "Azalea" some claim is one of the Korean poems that you can expect most Koreans can cite. To me the poem is typical for the wistful fatalism of the region. Accepting a harsh fate but doing so beautifully is something I think of as a typical sentiment in both Korea and Japan. Let's (only) Walk the Flower Road  reflect so much of the culture that gave birth to Kpop. What do you think? Would you scatter petals on the path of someone you love who leaves you?
Read all of Strange K-pop
Strange K-pop is all about the weird and wonderful of K-pop. Always with amazement, never without love. 
Read it all for instant gratification.
Enjoy all posts in this series
More strange than you can shake a lightstick at...